The Super Bowl Ad-Oscars
Breaking down the winners and the losers
For some, Super Bowl Sunday is one of the greatest days of the year in sports. For others, it's a chance to have food and fun while enjoying corporate America's best commercials. Regardless of where you fall on the spectrum of fandom, on Super Bowl Sunday there are winners and losers. Here are our this year's Bigfish staff picks for the best and worst Super Bowl ads.
Best Overall: Tide Takeover
Your brand is facing a crisis. Hundreds of tweens across the United States are filming themselves eating your chemically hazardous products for views on Youtube. How do you change the conversation and turn lemons into lemonade? The answer, it seems, is a helping of David Harbour, several splashes of homage to brands such as Old Spice Guy, and a dose of some wickedly ingenious meta humor. Quick question though: Does this mean Stranger Things has morphed into a Tide ad?
Worst Overall: M.L.K. Selling Dodge Ram Trucks
I probably don't need to remind readers about the free speech controversy that's been swirling around the NFL for the past year and a half, but it looks like someone should have reminded Dodge Ram before they gave this ad the green light. Even more flagrant than the appropriation in bad taste that appears in the ad is the fact that in the same Dr King speech that Dodge purloined from, the celebrated civil rights icon lampoons the dangerous influence of advertisers: "In order to make your neighbors envious you must buy this type of car!" 
__
Best Cameo: Cardi B – Alexa Loses Her Voice
Amazon's ad (which aired on YouTube prior to the Super Bowl) was a smash success for a number of reasons. Gordon Ramsay profanely berating a man about grilled cheese. Anthony Hopkins purring menacingly while stroking a peacock. But the crowd favorite was hand's down Cardi B, whose charm and record breaking song "Bodak Yellow" solidified this spot as one of the best of the night.
Worst Cameo: Bill Hader – Pringles
You'd think taking one of the most talented SNL cast members of the past two decades and placing him in a Pringles ad would be the set up for Super Bowl commercial glory, but what viewers got instead was a lackluster dud that failed to get a rise out of anyone. Rapid fire close-ups of guys oohing and aahing plus an incredibly dumb premise—stacking different chips to achieve dubious new flavor combinations—resulted in our entire Super Bowl party exhaling a collective huff of indignation at the end.  
__
Best Song + Dance: Eli Manning
I won't lie, I wasn't fully on board with this at first. But seeing Eli Manning tackle this scene from Dirty Dancing with such gawking inelegance is truthfully one of the greatest things I've ever seen on network television. He even beat out the usually more charming Peyton for best Manning brother cameo of the Super Bowl.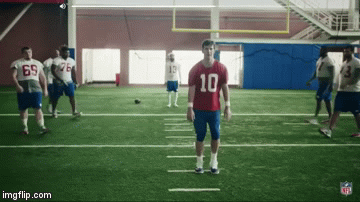 Worst Song + Dance: Diet Coke Mango Girl
Diet Coke's Mango spot was aiming for quirk but landed in cringe territory. The short spot is light on both content and context, but if minimalism is your thing…
__
Most Savage: Wendy's takes aim at McDonalds
Continuing their streak as fast food's resident renegades, the Wendy's marketing team unloaded another salvo of shade at McDonalds on Sunday. The Super Bowl spots called attention to McDonald's website, where they proudly tout their "flash frozen" beef. Wendy's was merciless, calling McDonalds the Frozen Arches and boldly re-instating their "fresh, never frozen beef" as the superior product. They even got in an extra jab on social media when the game's live stream was interrupted for a moment, posting on Twitter: @McDonalds "Y'all freeze that live feed?" Brutal.
Worst Hashtag: #BleepDon'tStink
We get it Febreeze, you think it's hilarious to keep saying "Bleep Don't Stink". So hilarious, in fact, that you're going to say it 15 times over the course of 1 minute. #BleepDon'tStink isn't especially offensive or anything, and the reveal at the end that you're watching a Febreeze ad is a nice little pay off for having to hear the same joke recycled for every scene, but the whole thing is just an edgeless, corporate colored stinker of an ad. 
Most Chills: NBC Winter Olympics | Shaun White
With perfect placement at the end of the show, this spot immediately turned our party's post-Super Bowl banter into rapt attention as the opening notes of Iron Man punctuated shots of Shaun White staring pensively over and getting busy in an unfolding halfpipe. As a native-born Arizonan, you couldn't pay me to be interested in the Winter Olympics, but this spot, with its epic pacing, impressive cinematography and indomitable Sabbath chords, gave me winter chills.