Content Marketing What It Is & Why It Is So Important
Hint: It's one of the most effective, practical marketing strategies today.
For the sake of this article, imagine that you're a used car salesman. Yep, that's right, you're that pushy, amped-up type of fast talker that normal people try to avoid like the plague. You own a small lot off the highway in the quaint little town where you grew up. Although you get some foot traffic because you pay your nephew to wear a gorilla suit and flag down passing drivers, you would like to increase your website traffic and get people living in surrounding towns to notice your business amidst the big budget, big voiced car dealerships in neighboring cities. How do you stand out? You're so smart, you probably noticed your solution in the title of this post: Content Marketing!
Bigfish can help get your brand noticed and expand your audience!
What is Content Marketing?
The Content Marketing Institute (CMI) defines content marketing as "a strategic marketing approach focused on creating and distributing valuable, relevant, and consistent content to attract and retain a clearly defined audience — and, ultimately, to drive profitable customer action."  Let's break that definition down a bit, shall we?
A Strategic Marketing Approach
Content marketing is a long term strategy that focuses on building relationships. It's a way to engage prospects that actually want to hear your message, letting them get familiar with your brand without directly promoting your product. No used car ads or gorilla suits here! This is a more refined approach requiring the frequent delivery of online content (I identify types of content, below) dictated by an actual content marketing strategy.
Valuable, Relevant, And Consistent Content
This can't be emphasized enough: Content marketing is all about building trust and rapport with your audience as they do research on the internet. Content marketing builds trust by empowering your prospects with the knowledge and information they're looking for. Consistency absolutely matters—you need to regularly deliver content that relates to your product and services AND that your audience needs to make a decision. Consistency means you need to "create and distribute" content 1-3 times a week to really engage with your audience, increase brand awareness and gain credibility.
70% of users believe that organizations providing custom content are interested in building good relationships with them
Attract And Retain A Clearly Defined Audience
Unlike a gorilla suit, content marketing is not about trying to appeal to everyone. It is about narrowing your focus to a defined core audience, namely the people who have self-identified as likely to be interested in the value your products offer through the search terms they type into Google (more on search terms, below). Strategically speaking, you need to produce content that appeals to prospects and converts them into customers. That means attracting prospects is only half the battle. Retaining them and moving them along your sales funnel is essential. You want your prospects to keep coming back to your site for information. This is where that consistency I talked about above becomes crucial: The information you provide needs to stay fresh, valuable and engaging to prospects with something in common (an interest in your product) and something that varies (where they are in the sales journey).
Let's go back to the car sales analogy. We know people are online looking at cars, right? But how do you attract them to your site? The answer is simple: Get online and start creating content! For instance, you can talk about what the latest data says about the most reliable used car models. You can share industry insights on what cars perform well in specific conditions like snowy weather. You can rate various automobile manufacturers. You can talk about the importance of car maintenance and how to find quality service or provide reasons why a customer should get a warranty. The possibilities are virtually endless! Content of this nature will reach prospects that are in the informational phase of purchasing and if your content is informative and engaging they will continue seeking you out, right up to and including an actual purchase.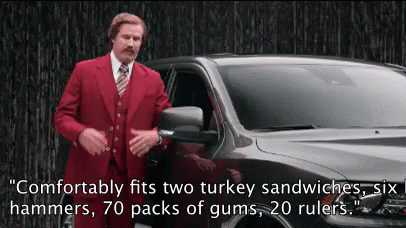 To Drive Profitable Customer Action
Here it is, the big payoff, the whole reasoning behind your transition from pushy sales person to a knowledgeable online automotive authority. Prospects searching for cars all over the world wide webs are viewing your content! Instead of the hard sell that turns prospects off, you're the source of more and more information that makes them smarter, which, in turn makes your brand more trusted. How's that for customer action? (It's ok, you can dance in your seat. I know you're excited!) And when they decide to purchase a high-quality, low-mileage used car, who do you think they'll think of first?
75% of people who find local, helpful information in search results are more likely to visit the physical stores
Types Of Content You Should Be Creating
So now that you know what content marketing is, let's talk about the various types of content used in content marketing strategies. This is the fun part!
Blogging isn't the only way to post content that attracts attention and generates leads. You have plenty of creative options that fit any budget. Here's a list of ways to bring your online content to the masses.
Blogging
Video & Live Streaming
Podcasts
Interactive Content
Webinars and Online Courses
Infographics and Downloadable Guides
eBooks
Whitepaper
Checklists
Interviews
Social Media Posts
This variety lets you think outside the box. And because you seem nice, I'm going to do you a solid and give you a couple of simple ideas to get you started.
Record yourself or an employee teaching viewers something, like a how-to video. Then put that bad boy on YouTube! If you owned a used car lot, you might get your service manager to show viewers how to kick the tires (and talk about the importance of buying used cars with lots of tread life).
Create an infographic detailing various steps during the financing process for first time car buyers (you can even hand out a printed version at your dealership).
Your content can be added to a blog post and then shared on social media to increase engagement and expand your customer base. Here are some more tips and tricks to check out. Don't worry—as I said, content marketing is a long term process: You'll get the hang of it.
Benefits of Content Marketing
Content marketing provides content that customers want, unlike traditional ads, which are sprayed at people who aren't interested at all, and which require serious creativity to break through the clutter. And the fact that your content is designed to educate customers creates value that you can build on over time with further engagement. Did I mention that content marketing in the form of a blog is free?
Another big bonus: The content you create is sharable! With a click of a button your content can be passed on to friends, family, co-workers, friends of co-workers, other online communities, so on and so forth, expanding opportunities to get eyeballs on your brand and create customers.
70% of internet users want to learn about products through content versus traditional advertising
Content marketing basically sells itself. Could your content go viral? Only if you create it.
SEO and Keywords
While creating engaging content can be fun and exciting, there is one slightly complicated layer that greatly boosts the likelihood of getting your content noticed: You have to post content that people are actually searching for by implementing some Search Engine Optimization (SEO). Using the right keywords when creating your content is critical, but you're in luck—there are a lot of tools out there to help you along. Two of my favorite free keyword tools are UberSuggest and Google Ads Keyword Planner. For more information on SEO tools check out this article from our friends at TrustRadius.
SEO is one of the more technical aspects of content marketing, so be sure to set yourself up for success by getting some advice. (Bigfish can help with SEO too! … IJS)
Okay, those used cars aren't going to sell themselves. Save the gorilla suit for that costume party and start creating and posting content: With the right content strategy you'll be putting someone behind the wheel of a clean 99' Honda Accord in no time.
Special thanks to: The Content Marketing Institute: What is Content Marketing and Neil Patel's Guide to Content Marketing